Sailing vacation at Kragenæs Marina Lystcamp
Spend your sailing vacation in first row to the Danish South Sea
Kragenæs Marina Lystcamp is beautifully located next to the Danish South Sea, surrounded by forest, beach, harbor, and marina. Here you have a very unique view of the art monument "The Dodecalith", and you can see the cozy, small ferries sailing to and from Fejø and Femø in the Danish South Sea. On a sailing vacation at Kragenæs Marina Lystcamp you are far from noise and traffic chaos – here you will find calmness, fresh air, and bird songs.
The marina is state-of-the-art and has been extended several times, so that the entrance is now 14 meters wide and can be used by boats that extend up to 3 meters deep. Guest sailors are welcome at all the green spaces in the marina as well as on the north quay. We have tables and benches, and if you want to grill, this is also possible.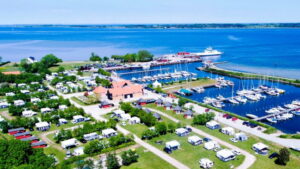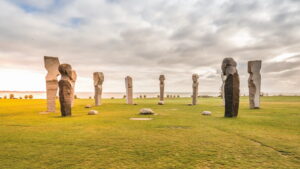 The facilities at Kragenæs Marina Lystcamp are great. Our guests praise our always floor heated toilet and bathroom facilities for the cleanliness and accessibility. There is of course free wireless internet access both at the campsite and in the marina, TV / living room, kitchen facilities, playgrounds and bathing bridge. Furthermore, we have laundry facilities. At the reception we have a kiosk, where from 7:30 can buy breakfast, newspapers, and various necessities.